That first snare in "Fearless (Taylor's Version)" hits, and I'm fifteen again. I'm dancing alone in my room, hand curled around an imaginary mic, singing along nostalgic of a love not yet even lost. Taylor Swift was simultaneously best friend, older sister, confidante. I was young, but I believed her; that [we'll] do things greater than dating the boy on the football team."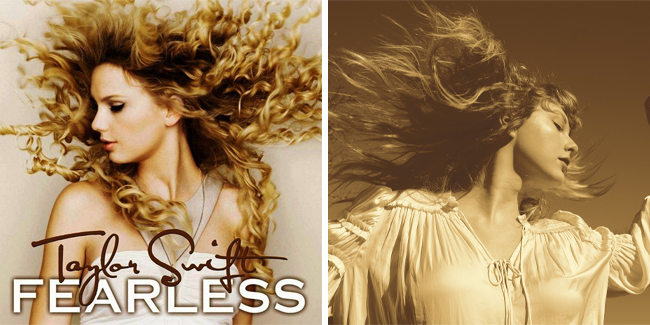 And greater things she did indeed. Taylor Swift's latest album is not just a re-recording of her 2008 studio album "Fearless," the album that catapulted her to stardom and earned her Album of the Year at the Grammy's. It is also a triumphant culmination of the last two years of dispute around the issue of master ownership between artist and record labels. "Fearless (Taylor's Version)" is an album proudly written by, produced by, and performed by Taylor Swift.
As one of contemporary music's most recognizable, popular, and objectively successful artists, Taylor holds a uniquely powerful position, and she has not been shy about using her voice to fight for artists' rights. When Apple Music launched in 2015 with a three-month free trial, they reversed their payment policy to ensure artists were paid for music streamed during trial periods when Swift refused to allow the company to stream her album "1989" until they did right by artists. In 2019, when Taylor declared her intentions to re-record her earlier albums, she managed to turn the acquisition of a record label into a moral, ethical debate about musicians' rights to their creations.
The controversy around the acquisition of Taylor's masters is noteworthy for how it reflects the shift in the power dynamic between artists and record labels. In today's digital era, record labels are no longer the powerful gatekeepers to distribution that they once were. With social media platforms like Instagram; self-hosting platforms and streaming services like Spotify and Twitch; and new content discovery platforms like TikTok, artists (and creators more broadly) have unparalleled direct relationships with their fans at scale.
Taylor Swift has also always recognized the power of her fans, and she offers a masterclass in how to engage and mobilize a fanbase. She always wanted her creative process to feel special for fans, inviting a select group of her most devoted fans to Secret Sessions in advance of new album launches. As a long-time Tumblr user, I can recall how active Taylor was (and continues to be) with her Tumblr Swiftie community. So when she learned that Scooter Braun acquired Big Machine Records and subsequently acquired the masters to her first six studio albums, she took to Tumblr to express her disappointment. Her (now controversial) plea to fans led to an #IStandWithTaylor Twitter trend where fans came forward to defend artists' rights to have full ownership and autonomy over their creations.
As a result of this, "Fearless (Taylor's Version)" feels like a collective win for fans, new and old. Taylor's re-recordings are an ode to the listeners who have been with her since the beginning. Coincidentally, her re-recordings allow her to introduce many of her most iconic teenage anthems to a new generation of listeners. Moreover, the wistful themes of love and youth throughout "Fearless (Taylor's Version)" may resonate even more with GenZ, who may be one of the loneliest groups yet.
I've now listened to all the tracks a few times over, flipping back and forth between the 2008 originals and 2021 re-recordings. The songs remain faithful to their original arrangements, with Taylor even bending her intonations to match how she sang them originally at seventeen. Of course, if you listen carefully, you'll hear how her voice is deeper, her tone richer, and her delivery wiser. Some of the earnestness in her voice from the 2008 versions is replaced by a cheeky confidence, the kind that comes through knowing it's a confident, successful, young woman singing the words she wrote when she was just a girl.
I can't help but sing along. "Fifteen" inspires a desire to relive moments of teenage naivete. "Forever & Always" still captures the pettiness of young heartbreak. "You're Not Sorry" remains a gut punch. "Mr. Perfectly Fine," a new track from her vault drops the "casually cruel" zinger we're familiar with from "All Too Well" two albums later.
One of my favorites on both the 2008 and 2021 albums is "Change." Listening to the re-recordings, I found myself briefly wishing I were fifteen today and experiencing the old Taylor Swift as the new Taylor Swift. But then again, I wouldn't have wanted to miss how I can hear that her voice is more defiant than ever when she sings: "And the battle was long, it's the fight of our lives / But we'll stand up champions tonight. / It was the night things changed. / Can you see it now?" 2008 Taylor sang that last question with hope in her voice, mustering strength knowing her biggest fights were yet to come. 2021 Taylor sings that line knowing she stands tall even after years of criticism and heartbreak. It's the rallying cry of an artist who remains at the top of her game and wants to bring us along for the ride, believing in the collective power of her community to continue to defy the odds.